Apple unveils the sleek, sexy MacBook, introduces refreshed MacBook Air and MacBook Pro lineup
Tweet
"Apple's new MacBook weighs under a kilogram and measures just 13.1mm at its thickest point."

Contrary to popular belief, the Apple Watch wasn't the star of the company's Spring Forward event held in San Francisco today. Tim Cook had already given us a close look at the Watch's capabilities back in September, so there wasn't anything significantly exciting announced on that front. The real showstopper was Apple's rumoured 12-inch MacBook Air, which turned out to be an all-new product, simply called the MacBook. A far cry from the chunky, yet iconic white MacBooks of yore, with the all-new MacBook, Apple seems to have reinvented the notebook.


The MacBook is incredibly thin, measuring just 13.1mm at its thickest point, and weighing under a kilogram at 907g. The 12-inch Retina display gets a resolution of 2,304 x 1,440 pixels and a 16:10 aspect ratio. Apple also says the new display is more energy efficient, and contributes to the overall sleekness of the laptop with its 0.88mm thickness. The MacBook gets an all-new full-size keyboard as well. The keys use a new 'butterfly mechanism' which Apple claims will offer better precision while typing. In addition, the traditional keyboard backlighting system has been replaced with individual LEDs for each key.

Perhaps one of the most significant additions to the MacBook is the 'Force Touch' trackpad, which uses four 'force sensors' that let you click from anywhere. Additionally, the trackpad is pressure sensitive, offering haptic feedback and letting you adjust the pressure required for clicks. Apple has also added a new gesture called 'Force Click', where a deep press will bring up tasks like word definitions from
Wikipedia
, file previews and more.
In line with the rumours, the new MacBook is fanless, and is powered by Intel's new Core M processor and Intel HD Graphics 5300. Combined with the energy efficient processor and display, Apple estimates the MacBook to deliver up to 9 hours of wireless web browsing and up to 10 hours of movie playback.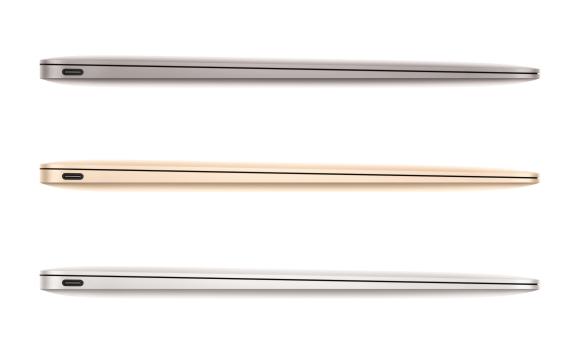 While the MacBook is equipped with Wi-Fi 802.11ac and Bluetooth 4.0, the biggest shocker comes from its single, USB Type-C port, which replaces all other connectors, including MagSafe. The new port is designed to work with a range of adapters, that will let you connect traditional USB ports, HDMI and DisplayPort 1.2. While Apple's vision of the world is an increasingly wireless one, we can't see power users managing with just a single port to handle charging and other functions, unless they attach one of these multiport adapters, which don't come cheap.
In addition to the new MacBook, Apple also announced an updated 13-inch MacBook Pro with a Retina Display, which gets the latest fifth-gen Intel Core processors, Intel Iris Graphics 6100, improved battery life (up to 10 hours) and the new Force Touch trackpad. The 11-inch and 13-inch MacBook Airs have also been refreshed, packing in the latest Intel Core processors, Intel HD Graphics 6000 and Thunderbolt 2. The MacBook Pro starts at Rs 94,900, while the MacBook Air range starts at Rs 65,900 and Rs 72,900 for the 11-inch and 13-inch variants respectively. The updated notebooks will be available in stores from today.